Coming Soon...
Newsies
Uxbridge Music Hall
Thu, 23 May 2019 - Sat, 1 Jun 2019
Tickets on sale: 20 Feb 2019
---
Lindsay Rose Highland Dance Company 4th Annual End of Year Recital
Uxbridge Music Hall
Thu, 20 Jun 2019
Tickets on sale: 03 Jun 2019
---
Newsies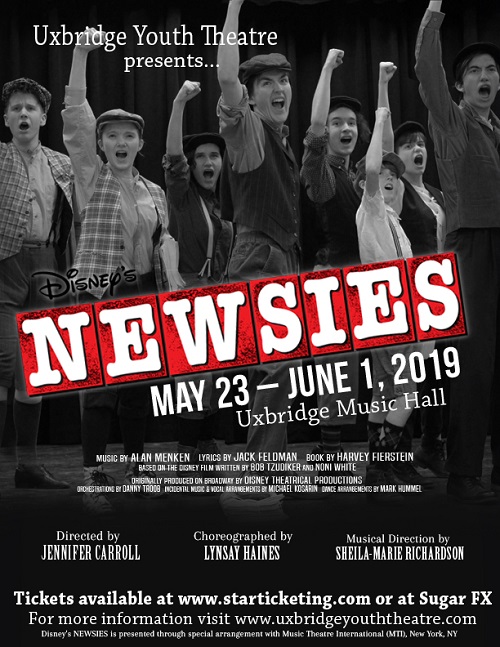 Newsies
Uxbridge Youth Theatre is proud to present NEWSIES.
Set in turn-of-the-century New York City, Newsies is the rousing tale of Jack Kelly, a charismatic newsboy and leader of a band of teenaged "newsies". When titans of publishing raise distribution prices at the newsboys' expense, Jack rallies newsies from across the city to strike against the unfair conditions and fight for what's right!
Based on the 1992 motion picture and inspired by a true story, Newsies is a show packed with non-stop thrills and a timeless message, perfect for the whole family and every audience.
Tickets are $25.00 for Adults and $20.00 for Students. Ticket prices include all taxes, ticket fees, and Music Hall Improvement Fund.
Early-bird special until March 15th: Save $5.00 per ticket. Adults: $20.00, Students: $15.00
Venue: Uxbridge Music Hall
Boookings for this event are yet to start!