The Fabulous Thunderbirds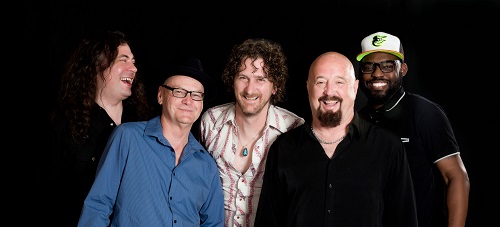 The Fabulous Thunderbirds
For over 30 years, The Fabulous Thunderbirds have been the quintessential American band. The group's distinctive and powerful sound, influenced by a diversity of musical styles, manifested itself into a unique musical hybrid via such barnburners as "Tuff Enuff" and "Wrap It Up." Co-founder Kim Wilson, the sole original member, still spearheads the group as it evolves into its newest incarnation.
"We started as a straight blues band," vocalist and harmonica player Wilson says. "We now incorporate a mixture of a lot of different styles. We're an American music band and we're much higher energy than we were before."
In addition to Wilson, the current Thunderbirds line-up features Jay Moeller on drums, Johnny Moeller and Mike Keller on guitar, and Randy Bermudes on bass.
"To be in the T-Birds, you need to understand the different styles of music and different ways of playing," Wilson comments. "You have to be willing to adopt a more contemporary style. The guys we have now are able to do that." The band continues to tour extensively, in both the U.S. and Europe.
The thread throughout the T-Birds career has been the respect the group commanded for its peerless musicianship and devotion to the sounds of blues, R & B and rock 'n roll. In fact, Muddy Waters called Wilson his favorite harmonica player and vocalist. "Muddy Waters was very good to me," Wilson says. "He almost adopted me. I'll never forget him."
All tickets are: $110.35 each including all taxes, ticket fees and Music Hall Improvement Fund.
Venue: Uxbridge Music Hall