1The Last Waltz Live – A Musical Celebration of The BAND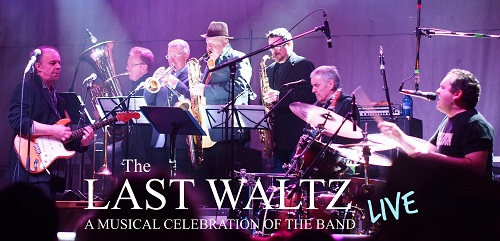 1The Last Waltz Live – A Musical Celebration of The BAND
Music By The Bay Live presents:
'The Last Waltz – A Musical Celebration of The BAND – Live' celebrates the songs and music of the iconic Canadian band.
By popular demand, one of Ontario's most talked about acts returns to Music by the Bay Live. This all-star Canadian cast of award-winning blues and roots musicians, under the direction of Juno award winning producer and musical director, Lance Anderson, will be playing The Uxbridge Music Hall on March 23, 2018. 
They are celebrating the 41st Anniversary of THE BAND's last concert in 1976 and The BAND's amazing contribution to our shared Canadian musical heritage. This show, has thrilled audiences at the Mariposa Folk Festival (2017), Beaches Jazz Festival (2017), Kitchener Blues Festival (2017) Ottawa City Folk Festival (2016), CNE Bandshell (2015) (Toronto) and Norfolk County Fair (2016) (Simcoe). It has also Sold Out theatres in Ottawa, Peterborough, Ajax, London, Orillia, Cobourg, Collingwood, (and more). In 2016, they completed a successful tour of Western Canada.
This is an all-star line-up, featuring Jerome Levon Avis (Levon Helm's godson), on drums and vocals with special guests and a nine-piece band led by Maple Blues 2014 'Keyboardist of the Year' Lance Anderson. The performance will recreate the atmosphere of The Band's final concert, which was captured in Martin Scorcese's award-winning concert film, The Last Waltz.
On the American Thanksgiving of 1976 at San Francisco's Winterland Ballroom, The BAND performed what they called their "Last Waltz," and invited many of their friends to join in the celebration.  These friends included Bob Dylan, Ronnie Hawkins, Van Morrison, and Canadians Neil Young and Joni Mitchell and others who performed with The Band on this special night.
In this homage to The Last Waltz, Anderson's special guests will perform the songs played and sung by these guest artists at the memorable 1976 concert.
Backed by a 9-piece band that includes Jerome Levon Avis, Terry Blersh on guitar, Dennis Pinhorn (The Hawks) on bass, Rob Gusevs (Blood, Sweat and Tears) on organ and Anderson (Joint Chiefs of Soul) on piano and vocals, this is a group of seasoned veterans who love the music. Anderson's band also features a stellar four-piece horn section including David Dunlop (Boss Brass) on trumpet, Gord Meyers (Blood, Sweat and Tears) on trombone and tuba, Chris Murphy (The Maple Blues Band) on tenor sax and Simon Wallis (Lighthouse) on baritone sax. An all-star band!  Special Guests will include Chuck Jackson, Matt Weidinger, Quisha Wint and Johnny Max.
All tickets are $65.00 plus taxes, ticket fees and Music Hall Improvement Fund. 
The Band is a Canadian national treasure, with four members of the legendary roots music group originally from southern Ontario. In the 1960s, they were initially brought together as "The Hawks" by Ronnie Hawkins and later gained international recognition as Bob Dylan's band on his groundbreaking electric tours. This 120 minute performance of The Last Waltz includes a wide selection of fan favourites, such as The Band's 'The Weight', 'The Night They Drove Ol' Dixie Down', 'Up On Cripple Creek', 'Life is a Carnival', 'The Shape I'm In', 'Rag Mama Rag', 'It Makes No Difference', 'Ophelia' and many more.
Venue: Uxbridge Music Hall