Coming Soon...
Lucy Maud Montgomery Day 2018
Historic Leaskdale Church
Thu, 27 Sep 2018
Tickets on sale: 24 Sep 2018
---
Mary Poppins Jr.
Sunderland Town Hall
Fri, 9 Nov 2018 - Sun, 18 Nov 2018
Tickets on sale: 05 Oct 2018
---
Six String Nation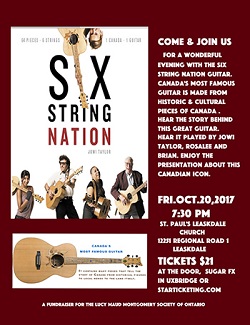 Six String Nation
Come join us for a wonderful evening with the most famous guitar in Canada, The Six String Nation Guitar and creator, Jowi Taylor, a Canadian Icon. "Voyageur" is made from historic and cultural pieces of Canada from historical figures to local heros to the land itself. Enjoy the presentation and hear the guitar played by Jowi, Rosalee and Brian.Leaskdale is one of many stops, this guitar has made across our great country.
All tickets are: $21.00 and include taxes & ticket fees.