Women in Country ft. Leah Daniels, Robyn Ottolini & more.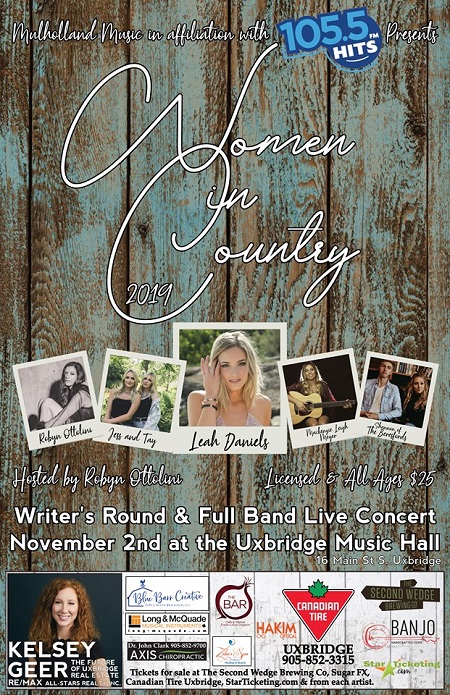 Women in Country ft. Leah Daniels, Robyn Ottolini & more.
This event features 5 exciting Female Country Acts from the GTA, including local Leah Daniels & Robyn Ottolini. The other acts include the very talented Jess and Tay Music, Mackenzie Leigh Meyer & The Beresfords.
The night starts as Robyn Ottolini hosts the Writer's Round. There will be 3 rounds. In each round, each artist will speak about a song they've written, which they will then play to the audience acoustic style. Between each round will be a short intermission to buy food & drinks etc.
After the 3 rounds, we'll take a longer intermission where we will change over to the full band portion of the evening. Each artist will perform 3 more songs alongside a professional 4 piece house band which will make up an exciting full production concert experience lasting an hour or so, with a fun collaboration to top off the night!
Event schedule is posted below in the "Event Schedule" portion of this FB Event.
Doors open at 6:00 PM
7:00 PM - 7:35 PM - 1st Writer's Round
7:45 PM - 8:20 PM - 2nd Writer's Round
8:30 PM - 9:05 PM - 3rd Writer's Round
9:30 PM - 10:45 PM - All Artists Perform 3 Songs Each with a 4-piece Professional House Band.
All tickets are $25.00 and include all taxes, ticket fees and Music Hall Improvement Fund. General Admission. First-come, first served.
Venue: Uxbridge Music Hall