Women In Blues Featuring Miss Emily & Jenie Thai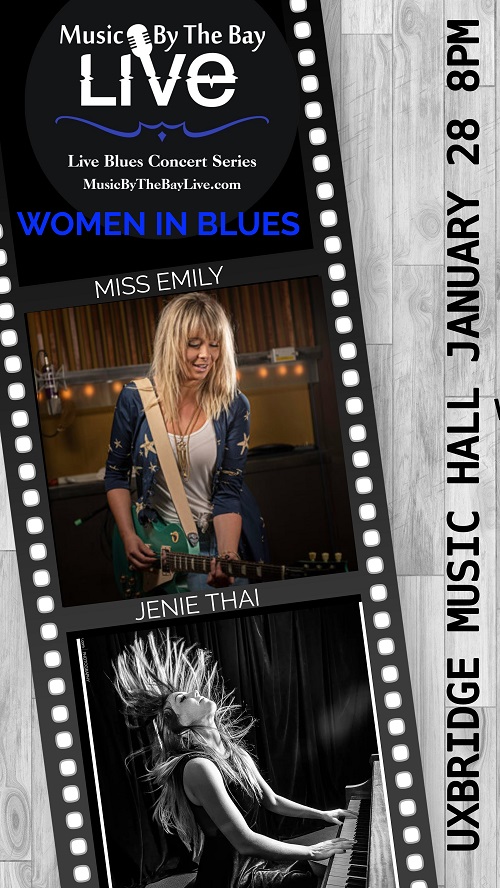 Women In Blues Featuring Miss Emily & Jenie Thai
Music By The Bay Live presents: Women In Blues Featuring Miss Emily & Jenie Thai
About Miss Emily
Multiple Maple Blues Award winner, and 2022 JUNO Nominee for Blues Album of the Year, Miss Emily returns to Music by the Bay Live at UMH. The high-octane entertainer with a powerful set of pipes calls Kingston, Ontario home and has been a highly sought-after performer at festivals around the country.
Miss Emily emerged from a soul-drenched gumbo of blues, old-school R&B, and jazz. With Ray Charles and Aretha as her mentors and K.D. Lang as her benchmark she went to school. Studying her craft on the sideroads, backroads, and highways of Ontario; she played every juke joint and nightclub that would have her.
She specializes in overcoming insurmountable challenges and scaling metaphorical mountains. Her resilience is a product of 20 years in an industry that can be, at best, "unfriendly" towards women. She has an innovative spirit and creative force born out of necessity, and her incomparable vocals are surpassed only by her electrifying, roof-rattling performances.
Meet Jenie Thai
When you meet her, Jenie Thai is composed, pleasant, amiable, friendly, and — she won't like the word but you have to live with it — sweet. She has an open face, long hair, a ready smile and an easy laugh.
And she is also tough, and gritty, and plays barrelhouse piano steeped in the blues — and if that wasn't enough to get your head around, she also writes and sings tough and tender ballads, direct from her heart to yours.
"Jenie Thai is an uncommon talent, full of life and zest and sparkling energy. While based in the blues, this woman's music is passionate pop with style and guts and a cheeky smile that will light up audiences wherever and whenever she plays."- Flohil and Associates Publicity and Concert Promotions, Richard Flohil
"Jenie Thai is one of the most naturally gifted musicians we've ever worked with. She has the uncanny gift of making familiar songs sound brand new - and when we heard her original songs, it felt like we had known them for years." - Music by the Bay Live Concert Series, Lori and Paul Murray
"Jenie Thai is one of the most inspirational Roots piano players I have seen in a long, long time. She brings both a Blues & Boogie Woogie sensibility to her music and then, infuses it with her young exuberant song writing. It is an infectious mix of old & new, raw & pristine, sad & joyous and they all work. It is Jazz, It is Blues, It is Roots but it is also a modern style of popularity that sucks you in the way Norah Jones does" - Host of Sunday Morning Soul, Johnny Max
Early-bird ticket price: $66.00 and include all taxes, ticket fees and Music Hall Improvement Fund.
Venue: Uxbridge Music Hall