Chicago Plays The Stones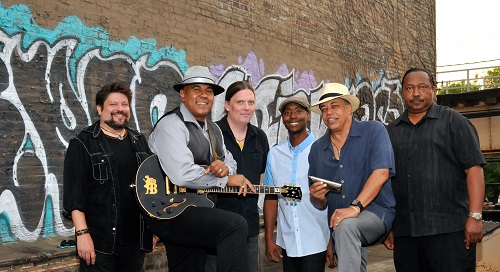 Chicago Plays The Stones
Chicago guitar-slinger and vocalist, Ronnie Baker Brooks and Chicago harmonica master and vocalist Billy Branch, among today's foremost inheritors of the Chicago blues tradition and keepers of the flame, unite live on-stage to give the songs of the Rolling Stones a remarkable rebirth. Brooks and Branch strip those rock songs down to their Chicago blues essence and bring the songs of Jagger-Richards back to their spiritual home and their point of origin.
There is no more seminal association in the history of rock and pop music than those ties that bind Chicago's electric blues with the Rolling Stones. They modeled their sound on the gritty, urban electrified and amplified music of Muddy Waters, Howlin' Wolf, Jimmy Reed, Little Walter and other Chicago blues pioneers. Through the lens of this musical kinship that has changed modern popular music and culture across the globe, CHICAGO PLAYS THE STONES takes audiences on a powerful musical journey that will delight and thrill lovers of the blues, fans of The Rolling Stones, and general music audiences alike.
The Concert: CHICAGO PLAYS THE STONES is an exhilarating, high-energy live stage performance that presents its audience with classic Rolling Stones songs arranged in the Chicago blues styles ranging from the early-traditional to modern- contemporary.
Performances also include songs from the 1940s Mississippi Delta by a young Muddy Waters up through the groundbreaking electrification of the country blues in Chicago by Waters and other pioneering Windy City blues artists. These blues sounds that traveled from the deep south up north to Chicago were the musical DNA that put the young Brits squarely on the path to become The Rolling Stones, the group that would eventually, with the Chicago blues at it core, have a lasting effect on rock and pop music.
Imagine the classic Rolling Stones songs as played by their Chicago blues heroes of the Golden Age such as Muddy Waters, Howlin' Wolf, Little Walter, Jimmy Reed, Willie Dixon or Sonny Boy Williamson. What would those songs sound like? Would they sound retro? Contemporary? Or, something new?
We invite you to a unique concert event featuring today's greatest Chicago blues artists to discover the answer to those questions. We invite you to travel back to the future to experience CHICAGO PLAYS THE STONES.
All tickets are: $70.00 plus taxes and ticket fees.
Venue: Uxbridge Music Hall