The Vagina Monologues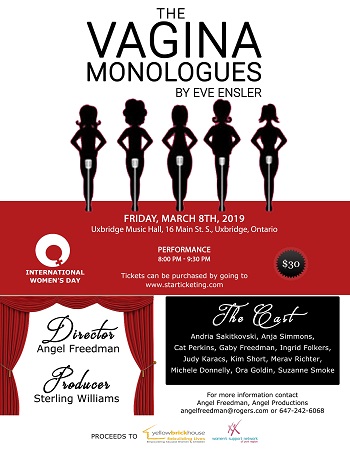 The Vagina Monologues
Angel Productions presents: The Vagina Monologues
The Vagina Monologues revolutionized the world after it began in 1996, when Eve Ensler interviewed 200 women about the details of their feminine experience; anecdotes about sex, relationships, attraction, and sometimes violence. Eve turned these women's stories into a one-woman-monologue off-Broadway show, and from there it spread like wildfire.
The run away success of that show spurred many more productions around the world, with ensemble casts - often starring and supported by celebrities and notable activists.
Eve Ensler started The V-Day movement, which is a global activist initiative to end violence against women and girls. All the proceeds from every performance of The Vagina Monologues goes to support women's causes, centres and shelters within the community. This years show proceeds will be donated to Yellow Brick House and the Women's Support Network of York Region.
The 8 amazing women in this cast, comprised of local business owners, activists, authors, mothers, daughters, and talented performers, are all honoured and inspired to be a part of this production. The Vagina Monologues directed by Angel Freedman has been performed at The Flato Theatre in Markham as well as The Al Green Theatre in Toronto - mesmerizing audiences and receiving RAVE reviews. This years performance welcomes 6 new cast members and Producer Sterling Williams. The play takes place at The Uxbridge music hall on Friday March 8. Tickets can be purchased at starticketing.com
All tickets are: $30.00 and include all ticket fees, Music Hall Improvement Fund and taxes.
Venue: Uxbridge Music Hall