Coming Soon...
Uxbridge Dance Academy Dance Recital 2023
Uxbridge Music Hall
Thu, 11 May 2023 - Sat, 13 May 2023
Tickets on sale: 15 Apr 2023 09:00 AM
---
Harry Manx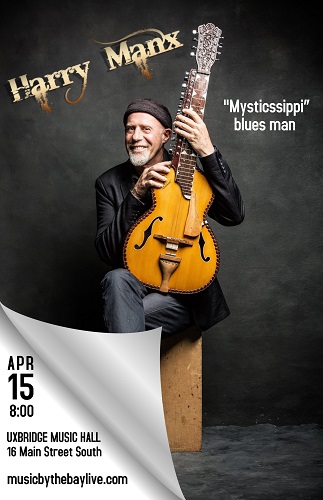 Harry Manx
Music By The Bay Live presents: Harry Manx.
"Mysticssippi" blues man Harry Manx has been called an "essential link" between the music of East and West, creating musical short stories that wed the tradition of the Blues with the depth of classical Indian ragas. He has created a unique sound that is hard to forget and deliciously addictive to listen to.
Harry forged his distinctive style by studying at the feet of the masters, first as a sound man in the blues clubs of Toronto during his formative years and then under a rigorous tutelage with Vishwa Mohan Bhatt in India. Bhatt is the inventor of the 20-stringed Mohan Veena, which has become Harry's signature instrument.
Harry played slide guitar for many years before meeting Bhatt in Rajasthan. In fact he had been living in another part of India for many years already, but he started at the beginning under Bhatt's tutelage, unlearning most of what he knew about playing a slide instrument. He learned Eastern scales and eventually ragas, deceptively complex and regimented musical patterns that form the basis of Indian composition. Learning the voicings of Indian music is a subtle art that comes with time. Harry spent most of twelve years in India learning that. It was later that Harry decided to explore the connection between Indian ragas and blues scales which eventually led to the Indo-blues hybrid that has become his
style.
Born on the Isle of Man, Manx immigrated to Ontario with his parents when he was a child. He started working with bands as a 'roadie' at age 15 and gradually worked his way up to becoming the regular sound man at the well-known El Mocambo (blues) club in Toronto. There he worked with a slew of blues legends. Harry admits that blues is still at the heart of much of his work. "I've always had one foot in the blues from those days … what I got from those artists is a groove. That's what I'm particularly interested in is the groove, and that's the way I play blues". "I went to Europe when I was 20 and started making money as a busker," recalls Manx. "I've worked mostly as a musician since then, though I did some theatre work for a while. I was a one-man band with a drum and a cymbal for a time too. It was really a lot of fun".
All tickets are: $66.00 which include all taxes, ticket fees and Music Hall Imrprovement Fund.
Reserved seating. No refunds/exchanges.
Venue: Uxbridge Music Hall