Colours in the Storm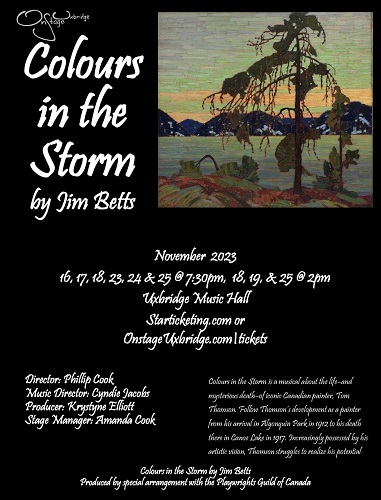 Colours in the Storm
OnStage Uxbridge presents: Colours in the Storm
Colours In The Storm is the musical by Jim Betts about the life – and mysterious death – of iconic Canadian painter, Tom Thomson. More a play with songs than a traditional musical, the show follows Thomson's development as a painter from his arrival in Algonquin Park in 1912 to his death there in Canoe Lake in 1917.
Run time 2 hrs
All tickets are: $25.00 each and include all taxes, ticket fees and Music Hall Improvement Fund.
Group rate of 10 or more tickets purchased for a single performance in a single transaction: $22.00 per ticket.
No refunds/exchanges once purchased.
Individuals requiring Access2 information/tickets please call: 1-866-808-2006 for ticket information.
Venue: Uxbridge Music Hall