Coming Soon...
Lucy Maud Montgomery Day 2018
Historic Leaskdale Church
Thu, 27 Sep 2018
Tickets on sale: 24 Sep 2018
---
Mary Poppins Jr.
Sunderland Town Hall
Fri, 9 Nov 2018 - Sun, 18 Nov 2018
Tickets on sale: 05 Oct 2018
---
Anne of Green Gables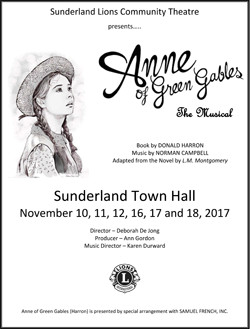 Anne of Green Gables
Sunderland Lions Community Theatre is thrilled to present: Anne of Green Gables, The Musical. Anne of Green Gables, The Musical was the inspiration of famous Canadian actor and playwright, Don Harron. Based on the novel written in 1905 by the Canadian author, Lucy Maud Montgomery, it is truly a Canadian Classic and has become renowned throughout the world. This heartwarming story is about an orphan girl, Anne, who with her indomitable spirit and bubbling optimism, is determined to find happiness. Anne is sent to an elderly brother and sister, Matthew and Marilla, to help out on their farm: Green Gables. However, Matthew and Marilla had requested a boy from the orphanage and are surprised, and somewhat overwhelmed when Anne arrives instead! With her revelations of her sad past but ever-present cheerfulness and enthusiasm, Anne soon captures their hearts and is allowed to remain at Green Gables. The quiet household of Matthew and Marilla takes on a whole new dimension with Anne's various antics; displaying her temper by yelling at a nosey neighbour, cracking her slate over a classmate's head and dying her hair to become "good-looking when I grow up". Yes, with her tenacity and resilience, she seems to have a way of creating much excitement! Through it all, Anne achieves success and happiness with her new family and friends and Matthew and Marilla wouldn't have it any other way as is portrayed in the beautiful song, "Anne of Green Gables, never change we love you just this way..!" With a cast of 40 amazing young actors, this delightful musical by Don Harron and Norman Campbell will have you completely enthralled with the many energetic, toe-tapping songs, chorus numbers, dancing, moments that may "bring a tear to your eye", but also wonderful moments of laughter... Light as the laughter that gives us hope again...Anne of Green Gables in our hearts, you are forever young!
All tickets are $16.00 and include taxes and ticket fees.
Venue: Sunderland Town Hall