Cranial Crash and Epic Party (Pre Show)
Cranial Crash and Epic Party (Pre Show)
High school has never been this mental! At Montclaire High School it's business as usual - the jocks, geeks, popular kids, etc., all try to navigate a world of insecurities, grades, fashions & text messages. Then during a school trip to a historic mission, the minds of high school students are inexplicably switched. Suddenly a charismatic slacker/surfer is helping everyone with their calculus, and a scholastic superstar has become an expert on heavy metal lyrics and is calling everyone "dude". In this screw-ball-comedy-for-a-new-generation, the kids have to find out a way to get their brains back as they juggle friends, classes, rumours, & scholarship competitions. Classmates soon discover that sometimes the best way to figure out who you are is by...changing minds.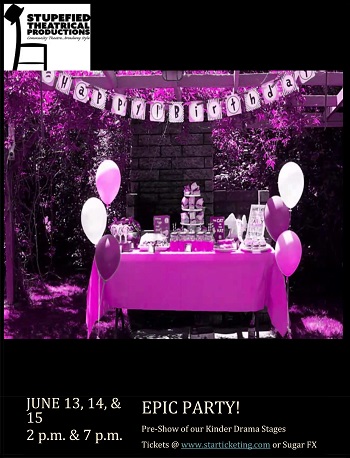 Epic Party - Pre show to Cranial Crash: Taylor is about to have her birthday party, and she's planned the biggest celebration of the year. But in the middle of the party something mysterious happens - all the adults suddenly vanish! Trapped in the backyard, the kids realize they must create a brand new society. However, when they elect Taylor's older sister, Charlie, as their ruler, things really begin to spin out of control. Eventually the kids learn a big lesson in responsibility, while Taylor and Charlie develop a greater respect for one another.
All tickets include both performances of Epic Party and Cranial Crash and include all taxes, ticket fees and Music Hall Improvement Fund.
Ticket price: $18.00
Venue: Uxbridge Music Hall