Coming Soon...
Uxbridge Dance Academy Dance Recital 2023
Uxbridge Music Hall
Thu, 11 May 2023 - Sat, 13 May 2023
Tickets on sale: 15 Apr 2023 09:00 AM
---
uxperience 2023 - A day in the Life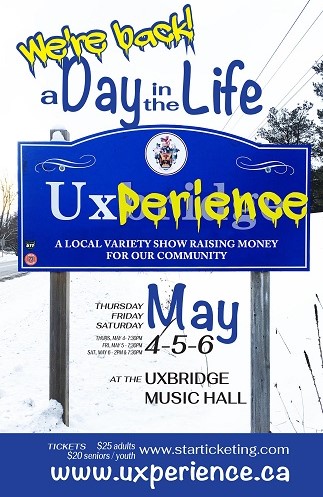 uxperience 2023 - A day in the Life
uxperience 2023 – A day in the Life
uxperience is an annual variety show created and presented by community volunteers who sing, perform skits, dance, play music, or help backstage providing great entertainment, having fun, making new friends and donating funds to a worthy cause within our community.
Since its beginning in 1992, this non-profit group has donated over $160,000 to local charitable organizations. The recipients of the proceeds have included such worthy causes as the local hospital, hospice, sports facilities, children's programs and seniors' projects, and yearly provides three scholarships to graduating students from Uxbridge Secondary School.
The 2023 theme is "A day in the Life" with proceeds going to support The Uxbridge Youth Centre with a focus on this year's summer programs.
All tickets are: $25.00 for adults, $20.00 for children (under 13), $20.00 for seniors (65+), and include all taxes, ticket fees and Music Hall Improvement Fund.
Group rate of $20.00 for groups of 10 or more people.
No refunds/exchanges.
No age restriction.
Venue: Uxbridge Music Hall