Founder's Day with the SuperDogs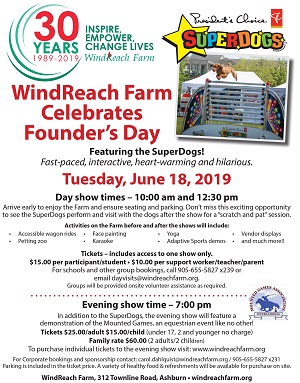 Founder's Day with the SuperDogs
WindReach Farm celebrates its 30th anniversary with Founder's Day featuring the SuperDogs! A fast paced, interactive, heartwarming and hilarious dog show being performed at WindReach Farm. The day show includes a number of activities for the entire family to enjoy, such as accessible wagon rides, a petting zoo, etc. To book group or school visits please email: dayvisits@windreachfarm.org.
In addition to the SuperDogs, the evening show will include a demonstration of the Mounted Games, which is an equestrian event like no other where riders participate in quick relay races on ponies, demonstrating athletic ability and a competitive spirit. Fun, fun fun!
Come join us for an unforgettable event!
All tickets are $25.00 for adults, $15.00 for children/seniors and $60.00 for families (2 adults, 2 children) and include all ticket fees and taxes.
Venue: WindReach Farm