Elliott BROOD ~ Mayfly's Landing ~ CROW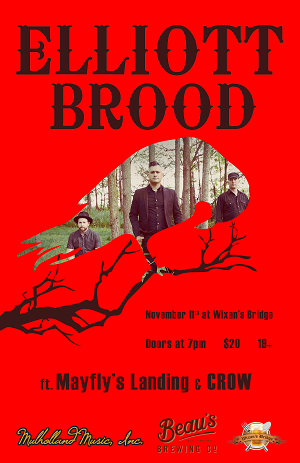 Elliott BROOD ~ Mayfly's Landing ~ CROW
Elliott BROOD returns to Uxbridge! Did you catch them at Springtide 2017 at the Uxbridge Music Hall? Don't miss them in this intimate setting downstairs at Wixan's Bridge!
Presented by: Mulholland Music, Inc. + Beau's All Natural Brewing Co. + Wixan's Bridge
ft. Mayfly's Landing & CROW
Doors: 7pm
CROW: 7:45pm - 8:30pm
Mayfly's Landing: 8:45pm - 9:30pm
Elliott BROOD: 10:00pm - 11:30pm
All tickets: $20 (19+) and include taxes, and ticket fees.
Venue: Wixan's Bridge