Unity (1918)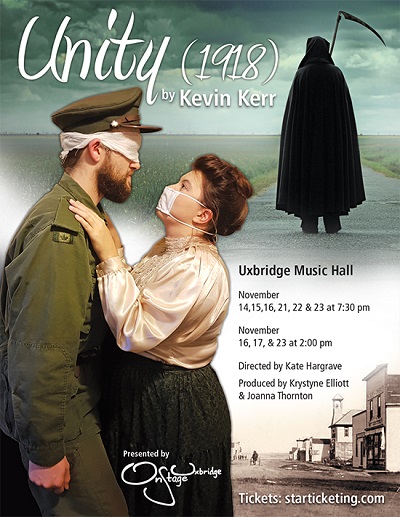 Unity (1918)
OnStage Uxbridge proudly presents: Unity (1918)
November 2019
As WWI draws to a close, the deadly Spanish Flu sweeps across the world. Rumours and fear spread through the small town of Unity, Saskatchewan, and a quarantine is placed to prevent an outbreak. When residents start falling sick, however, panic and blame abound.
In the midst of the outbreak, however, life goes on. Siblings squabble. Couples fall in love. Crops are harvested. Telephone operators gossip about — well, pretty much everything. This play handles both the enormity of the Spanish flu and the minutiae of small-town life with hefty doses of poignancy, hope, and biting humour.
"A work of powerful and moving familiarity, a kind of secular liturgy that celebrates love, sex, death, and the sorrowful mysteries of war and plague. It's also painfully funny." — Globe & Mail
All tickets are: $25.00 and include all taxes, ticket fees and Music Hall Improvement Fun. Subscriptions can be purchased for all three OSU productions by clicking on the subscription tab up until November 23, 2019.
Groups of 10 or more, ticket are $20.00. To order please call 1-866-808-2006.
Venue: Uxbridge Music Hall