Bringing History to Life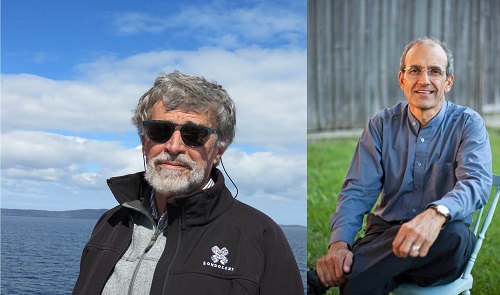 Bringing History to Life
Tickets: $25.00 + HST
Venue: Wooden Sticks
Event Description: Ted and Ken write about vastly different subjects; however, they have at least one key thing in common – the ability to bring history to life. Join Ted Barris and Ken McGoogan as they take us back through Canada's history. Learn how they tackle writing historical non-fiction, from the research process to presenting the facts respectfully. Each a fan of the other's work, they have a mutual respect and admiration for each other. This is sure to be as entertaining as it is informative!
Author Bio:
Ted Barris
Ted Barris is an award-winning journalist, author and broadcaster. He is the author of 18 best-selling non-fiction books including, Juno, Behind the Glory, Victory at Vimy, and Breaking the Silence. His book Dam Busters, published in 2018, was awarded the NORAD trophy.
In addition to his published books, he is a regular writer in national media and can be heard from time to time on many of the CBC radio programs. He is one of our beloved local authors and we're excited to have him in the festival!
Ken McGoogan
Ken McGoogan is a highly successful author and journalist, with over a dozen books to his credit. He has won the Pierre Berton Award for History, the UBC Medal for Canadian Biography, and the Drainie-Taylor Biography prize, amongst others.
'Calling all history buffs and fans of Diana Gabaldon's Outlander!' Ken McGoogan's most recent book, Flight of the Highlanders: The Making of Canada, describes the fate of the Scottish Highlanders after they were decimated at the 1746 Battle of Culloden. The British government banned kilts and bagpipes and set out to destroy a clan system that for centuries had sustained a culture, a language and a unique way of life; 200,000 Highlanders were driven out of Scotland - a prototype for the refugees arriving in Canada today.
Ken teaches creative non-fiction in the MFA program at the University of King's College in Halifax, has won a teaching excellence award from the University of Toronto, and currently resides in Toronto with his artist-photographer wife, Sheena Fraser McGoogan.
General Admission. Seating is on a first-come first-served basis.
Venue: Wooden Sticks