zThe Monsters Ball: A Dazzling and Macabre Halloween Concert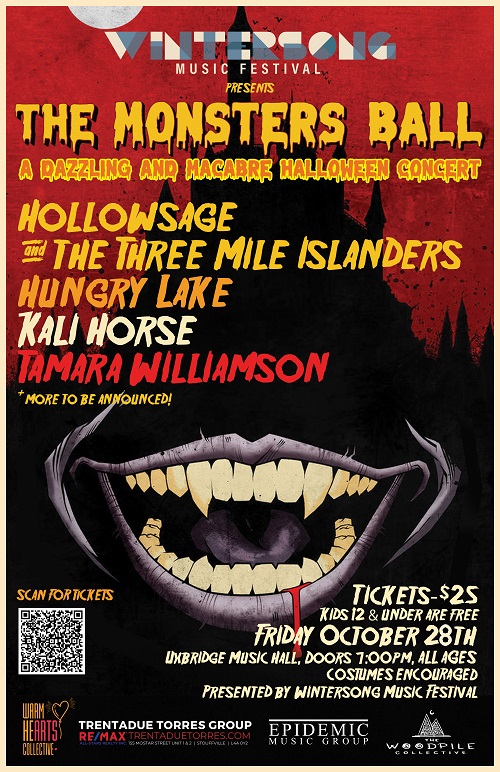 zThe Monsters Ball: A Dazzling and Macabre Halloween Concert
Wintersong Music Festival, Warm Hearts Collective, Epidemic Music Group, The Woodpile Collective, and Trentadue Torres Group: RE/MAX: present: The Monsters Ball: A Dazzling and Macabre Halloween Concert on Friday October 28th. Doors open at 7:00pm.
A dazzling and macabre Halloween concert
Hosted by The Phantom of the Music Hall and featuring:
Hollowsage & the Three Mile Islanders (Uxbridge)
Tamara Williamson (Uxbridge)
Hungry Lake (TO/Stouffville)
Kali Horse (TO)
A late-night monster-mash dance party of epic proportions
ALL AGES / Fully Licensed / Devilishly delicious eats / Prizes for Best Costumes & Ghoulish Giveaways!
Ticket prices:
Adults: $27.86,
Children (12 and under): FREE (however are required to have a ticket to enter the building).
All tickets are including all taxes, ticket fees and Music Hall Improvement Fund. General Admission.
Venue: Uxbridge Music Hall