Roald Dahl's Willy Wonka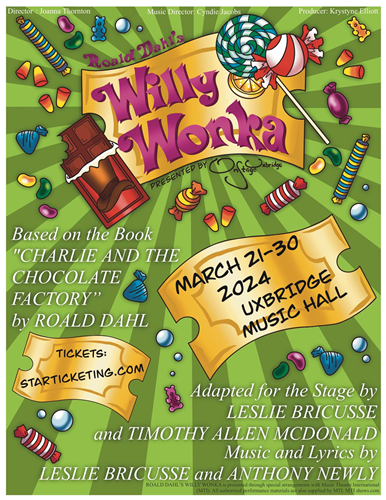 Roald Dahl's Willy Wonka
OnStage Uxbridge presents: Roald Dahl's Willy Wonka
Roald Dahl's timeless story of the world famous candy man and his quest to find an heir comes to chocolate-covered life.
The delicious adventures experienced by Charlie Bucket on his visit to Willy Wonka's mysterious chocolate factory light up the stage in this captivating adaptation of Roald Dahl's fantastical tale. Featuring the enchanting songs from the 1971 film starring Gene Wilder and new songs by Leslie Bricusse (Jekyll & Hyde, Doctor Dolittle) and Anthony Newley, Roald Dahl's Willy Wonka is a scrumdidilyumptious musical guaranteed to delight everyone's sweet tooth.
Roald Dahl's Willy Wonka follows enigmatic candy manufacturer, Willy Wonka, as he stages a contest by hiding golden tickets in five of his scrumptious candy bars. Whomever comes up with these tickets will win a free tour of the Wonka factory, as well as a lifetime supply of candy. Four of the five winning children are insufferable brats: the fifth is a likeable young lad named Charlie Bucket, who takes the tour in the company of his equally amiable grandfather. The children must learn to follow Mr. Wonka's rules in the factory... or suffer the consequences.
Roald Dahl's Willy Wonka has been created with educators and student performers in mind. With this show's flexible cast size, featuring roles for all ages, this is an ideal show for community theatres looking to involve as many performers as possible. Filled with imaginative design possibilities, Roald Dahl's Willy Wonka will take audiences on a fantasy ride into the land of pure imagination!
Run time 2 hrs
All tickets are: $25.00 each and include all taxes, ticket fees and Music Hall Improvement Fund.
Group rate of 10 or more tickets purchased for a single performance in a single transaction: $22.00 per ticket.
No refunds/exchanges once purchased.
Individuals requiring Access2 information/tickets please call: 1-866-808-2006 for ticket information.
Venue: Uxbridge Music Hall