Coming Soon...
Uxbridge Dance Academy Dance Recital 2023
Uxbridge Music Hall
Thu, 11 May 2023 - Sat, 13 May 2023
Tickets on sale: 15 Apr 2023 09:00 AM
---
SOS - The ABBA Experience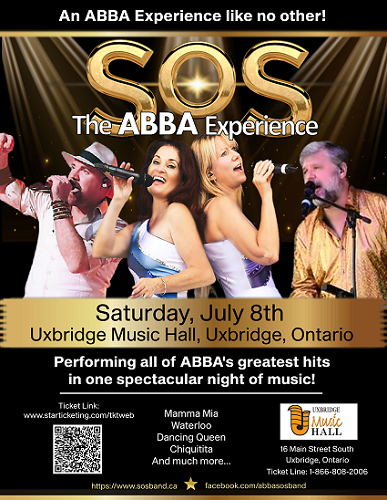 SOS - The ABBA Experience
SOS - The ABBA Experience is a band you don't want to miss! With decades of professional experience among its members, they recreate the music of ABBA as closely as possible to the original studio recordings with no backing tracks. The appreciation of the Swedish pop phenom's groove and unique vocal style is clearly evident in this group's performances. From the killer vocals and harmonies classic to Agnetha and Frida, the intricate piano and rhythmic guitar of Benny and Bjorn, to the rich backup vocal layers performed by the other talented members, this ten-piece band will deliver an authentic experience like no other!
All tickets are $49.00 which include all taxes, ticket fees and Music Hall Improvement Fund.
Show run-time: 2 hours including intermission. Non alcoholic concessions available for purchase.
No refunds/exchanges.
Venue: Uxbridge Music Hall