Martin Barre - Celebrates 50 Years of Jethro Tull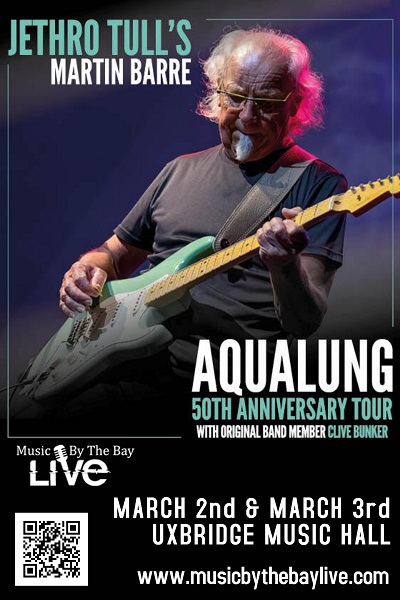 Martin Barre - Celebrates 50 Years of Jethro Tull
Coming to Uxbridge Music Hall in September 2020, Jethro Tull guitarist Martin Barre Celebrating The Music of Jethro Tull in America. The tour is supported by a "50 years of Tull" album released worldwide
Martin Barre was the guitarist of Jethro Tull for over 43 years, his sound and playing was a major factor in their success. Album sales have exceeded 60 million units and they continue to be played worldwide, representing an important part of classic rock history.
Barre's guitar playing has earned him a high level of respect and recognition; he was voted 25th best solo ever in the USA and 20th best solo ever in the UK for his playing on 'Aqualung'. His playing on the album 'Crest of a Knave' earned him a Grammy award in 1989.
As well as numerous Jethro Tull albums, Barre has worked with many other artists including Paul McCartney, Phil Collins, Gary Moore, Joe Bonamassa and Chris Thompson and has shared a stage with such legends as Hendrix, Fleetwood Mac, Pink Floyd and Led Zeppelin.
Barre has put together a band to play the "classic" music from the Tull catalogue. His band is a total commitment to give the Tull fans and a broader audience the chance to hear tracks not performed for many years. The band includes top musicians from a similar background
More recently Martin has collaborated with original Tull band members Clive Bunker and Dee Palmer on a tour across America celebrating 50 Years of Jethro Tull!
Clive Bunker - played drums on Stand Up/Benefit/Aqualung etc. Clive was part of the historic band that stormed the USA from 1969 onwards.
Dee Palmer - keyboardist, composer from 1968 to 1991. Palmer was a driving force and notable Tull Band member. - arranged string, brass, and woodwind parts for Jethro Tull songs in the late 1960s, before formally joining the group in 1976 playing keyboards on albums Songs from The Wood, Heavy Horses & Storm watch.
All tickets are reserved seating. $106.66 each and include all taxes, ticket fees and Music Hall Improvement Fund.
Venue: Uxbridge Music Hall