Frankie and Johnny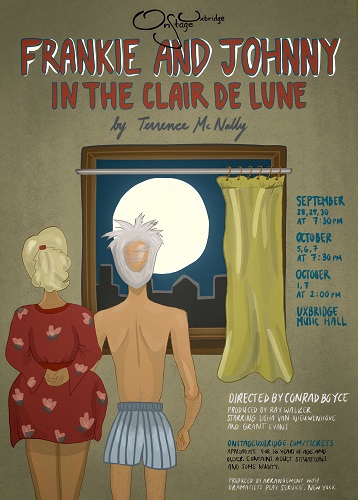 Frankie and Johnny
THIS EVENT HAS BEEN CANCELLED
OnStage Uxbridge present Frankie and Johnny.
The setting is a walk-up apartment on Manhattan's West Side where, as the curtain rises, Frankie (a waitress) and Johnny (a short-order cook who works in the same restaurant) are discovered in bed. It is their first encounter, after having met several weeks ago on the job, and Frankie is hopeful that Johnny will now put on his clothes and depart, so she can return to her usual routine of watching TV and eating ice cream. But Johnny, a compulsive talker (and romantic), has other ideas. He is convinced that he loves Frankie, a notion that she, at first, considers to be ridiculous. She has had more disappointments than delights in life, and he is the veteran of one broken marriage already. And neither of them is in the bloom of youth. Yet out of their sometimes touching, sometimes hilarious interplay the promise of a relationship beyond a "one-night stand" does begin to emerge and, as the lights dim, the two are back in bed again, but this time side-by-side, holding hands before the glowing television screen.
18+: Show may contain full frontal nudity and explicit, graphic situations. Minors may not be admitted depending on content, contact the box office for more information.
Run time approx 2hrs
All tickets are: $25.00 each and include all taxes, ticket fees and Music Hall Improvement Fund.
Group rate of 10 or more tickets purchased for a single performance in a single transaction: $22.00 per ticket.
Subscription available until October 7th 2023. To upgrade your ticket for Frankie and Johnny to be part of the season subscription which includes Colours in the Storm, Death on the Nile and Willy Wonka for a price of $85.00 please call:1-866-808-2006
No refunds/exchanges once purchased.
Individuals requiring Access2 information/tickets please call: 1-866-808-2006 for ticket information.
Venue: Uxbridge Music Hall