Coming Soon...
Lucy Maud Montgomery Day 2018
Historic Leaskdale Church
Thu, 27 Sep 2018
Tickets on sale: 24 Sep 2018
---
Mary Poppins Jr.
Sunderland Town Hall
Fri, 9 Nov 2018 - Sun, 18 Nov 2018
Tickets on sale: 05 Oct 2018
---
The Life & Death of John the Milkman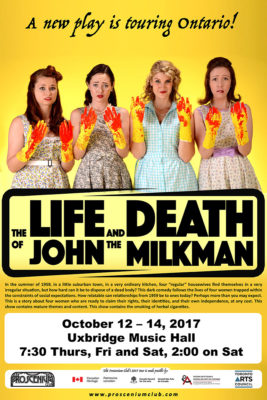 The Life & Death of John the Milkman
In the summer of 1959, in a little suburban town, in a very ordinary kitchen, four "regular" housewives find themselves in a very irregular situation, but how hard can it be to dispose of a dead body? This dark comedy follows the lives of four women trapped within the constraints of social expectations. How relatable can relationships from 1959 be to ones today? Perhaps more than you may expect. This is a story about four women who are ready to claim their rights, their identities, and their own independence, at any cost. This show contains mature themes and content. This show contains the smoking of herbal cigarettes.
Josh Bainbridge, the writer and director of Life and Death of John the Milkman, is also a certified stage combat  trainer in single sword, quarter staff, hand to hand combat and rapier and dagger. He has offered to hold a workshop on stage combat on Wednesday Oct 11 from 7:00-9:00pm  at the Music Hall for anyone who has purchased a ticket to the play. 
All tickets: $20.00 (adult), $15.00 (student) and include taxes, ticket fees and Music Hall Improvement Fund.
Venue: Uxbridge Music Hall