Skinnamarink Party with Sharon & Bram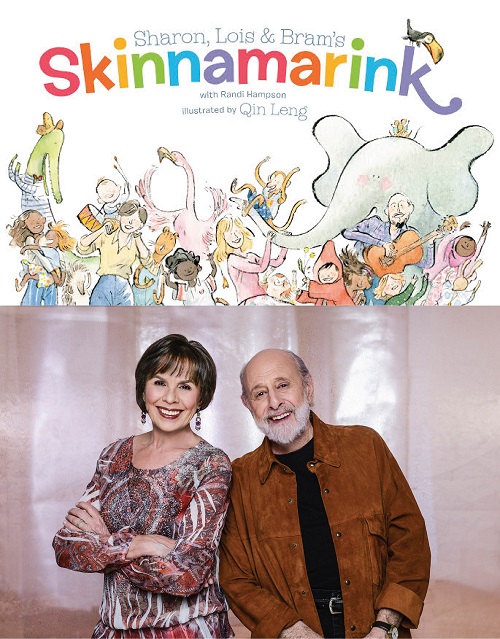 Skinnamarink Party with Sharon & Bram
Tickets: $25.00 for adults and $15.00 for children under 12. Infants in arms (12 mos. & under) are free.
Venue: Trinity United Church
Event Description: We are thrilled to host a special celebration of Sharon and Bram's first picture book: Sharon, Lois & Bram's Skinnamarink! Skinnamarink is a timeless anthem of love and inclusion. What does "skinnamarink" mean? You may not find its definition in a dictionary, but the meaning is clear to the generations of children who sang along: friendship, happiness, sharing, community and, ultimately, love. This song has been sung at weddings and in classrooms. It can be fun and silly – especially with the accompanying actions! And it has a way of bringing people together.
At this special book event, Sharon and Bram will perform a few of their favorite songs and will be joined on stage by special guest Whitney Barris. Following their short performance, there will be a meet and greet and an opportunity to take photos and get your copy of the book signed. Every child's ticket will include one copy of Sharon, Lois & Bram's Skinnamarink. Books included in the child's ticket price can be picked up at the event- along with additional copies of Sharon, Lois & Bram's Skinnamarink, which will be available for sale. Please note that this is a celebration of the book featuring a condensed musical set, not a full-length concert.
Author Bio:
Sharon and Bram
Since 1978, Sharon Hampson and Bram Morrison have been pre-eminent in all aspects of family entertainment across North America as members of the trio "Sharon, Lois & Bram". Together, the threesome produced over twenty recordings, beginning with their iconic One Elephant, Deux Elephants, three songbooks, six national TV specials, sixty-five episodes of The Elephant Show, and fifty-two of Skinnamarink TV. They have appeared in every major concert hall in Canada, and many in the United States including Carnegie Hall, The Lincoln Center and the White House. They have received countless awards, including Gold and Platinum Records and JUNO Awards for Best Children's Album. To date, they have sold over 3 million albums worldwide. For their years of work providing the best in participatory music for children and their families, Sharon and Bram have been inducted into The Order of Canada, the highest honour in the country.
Whitney Barris
Part of the Toronto jazz scene since 2008, Prairie-born, Ontario-based jazz singer Whitney Ross-Barris has quickly built a respected name for herself among players and listeners alike.
As a solo jazz artist, Whitney has appeared frequently in the TD Toronto Jazz Festival, she has been featured recurrently in JAZZ.FM91's One Stop Vocal Jazz Safari and performs regularly in clubs, restaurants and concert halls across South Western Ontario. She currently resides in Uxbridge with her three children and often visits her dad, Ted Barris.
Seating is on a first-come first-served basis.
Venue: Trinity United Church