Coming Soon...
Heavy Head
Uxbridge Music Hall
Fri, 1 Sep 2023
Tickets on sale: 24 Jun 2023 09:00 AM
---
Sonny Landreth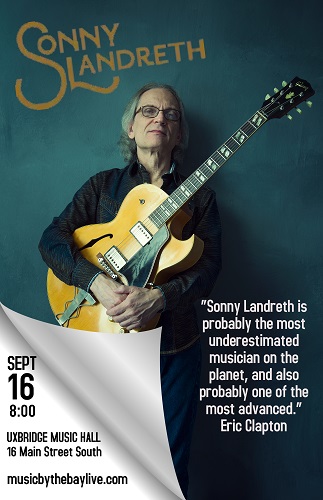 Sonny Landreth
Music By the Bay Live proudly presents: Southwest Louisiana-based virtuoso slide guitarist, songwriter, and singer Sonny Landreth is a musician's musician. The noted slideman cut his musical teeth in The Red Hot Louisiana Band of zydeco king Clifton Chenier, and has since recorded and toured with artists ranging from John Mayall to John Hiatt.
Landreth has collaborated with the very top names in guitar over the years; Eric Clapton, Mark Knopfler, Eric Johnson, Derek Trucks – the list goes on.
"Sonny Landreth is probably the most underestimated musician on the planet, and also probably one of the most advanced." Eric Clapton
Early bird ticket price available until August 1st, 2023
All tickets are: $89.22 including all taxes, ticket fees and Music Hall Improvement Fund.
No refunds/Exchanges once tickets have been purchased.
Venue: Uxbridge Music Hall