Quinn Sullivan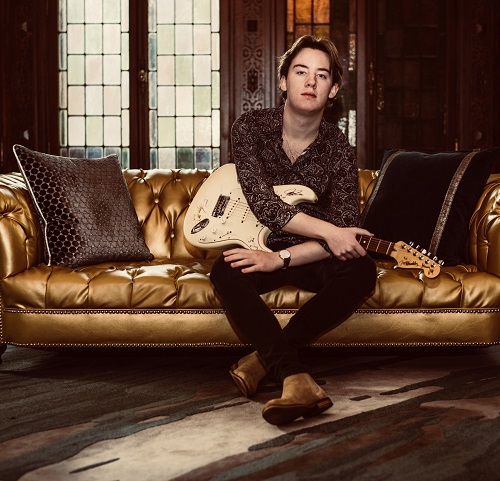 Quinn Sullivan
Quinn Sullivan has been a music professional for more than 75 percent of his life. He's shared the stage with Buddy Guy, Eric Clapton, Los Lobos, The Roots, Derek Trucks & Susan Tedeschi and Joe Bonamassa, and he opened for B.B. King, who later invited him to play his treasured "Lucille" guitar. He has performed on concert and festival dates throughout the United States – including at storied venues like Hollywood Bowl, RFK Stadium and Madison Square Garden – traveled overseas – performing at both the Montreux Jazz Festival and India's Mahindra Blues Festival – and played several editions of the Experience Hendrix Tour, backed by Jimi's original bassist Billy Cox. He's also appeared on national TV, with guest appearances on The Tonight Show with Jay Leno, Oprah, Late Night with Jimmy Fallon, Conan and twice on The Ellen DeGeneres show.
Yes, Sullivan has packed some extraordinary experience into his decade-long career, and that's even more remarkable when you consider that he's only 18. His third studio album, Midnight Highway, was produced by multi GRAMMY® winner Tom Hambridge , and was released worldwide in early 2017 on Mascot Label Group's PROVOGUE label. The album is yet another milestone in Quinn's extraordinary journey, which began with him jamming with the kids music combo Toe Jam Puppet Band at age three, appearing on Ellen when he was six, and being taken under the wing of blues legend Buddy Guy at age eight, whose protégé he remains to this day.
Opening the show will be 18-year-old 'New Artist of the Year' Maple Blues Award winner, Spencer MacKenzie. With an insightful musical expression emerging from his body, the only explanation is an old soul residing within! He has a deep, soulful, true to the blues sound, with an electrifying twist that captivates his audience. 'His guitar playing is crisp and clean even as it delivers some down-to-the bone licks…He's got the blues power in his soul..." – Blues Blast Magazine (USA)
His debut album 'Infected with the Blues' earned rave reviews! "Goodbye Lucille is the best musical tribute to BB King I've hear....." -BLUES MATTERS MAGAZINE (UK). Spencer will be performing songs from his new Album Cold November, that will be released April 27th.
As MacKenzie puts it, "I got the blues running through my veins!"
All tickets are: $76.45 including all taxes, ticket fees and Music Hall Improvement Fund.
Venue: Uxbridge Music Hall