Coming Soon...
Heavy Head
Uxbridge Music Hall
Fri, 1 Sep 2023
Tickets on sale: 24 Jun 2023 09:00 AM
---
IN TEENLAND WAR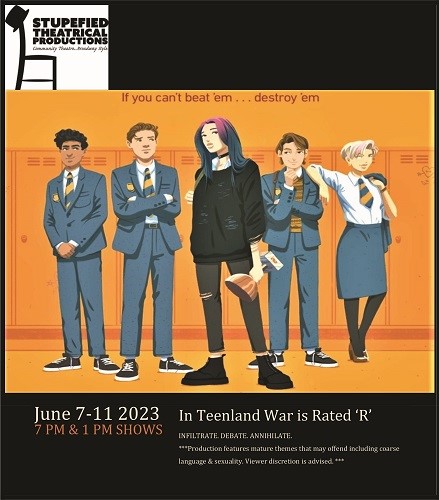 IN TEENLAND WAR
INFILTRATE. DEBATE. ANNIHILATE.
Not everyone can be a winner, and Simmie Williams knows this better than anyone. After her white-collar-criminal dad is sent to prison, Simmie fails almost all her classes and moves into a dingy apartment with her mom, who can barely support them.
A new school promises a fresh start - except Ethanville isn't exactly like other high schools It's ruled with an iron fist by a speech team that embodies the most extreme winner-takes-all philosophy.
Simmie is befriended by a group of fellow misfits, each of whom has been personally victimized by the speech team. With the help of her co-consipirators, Simmie comes up with a plan: If she makes Nationals, she can topple the corrupt regime from the inside out. But what happens when Simmie realizes she actually has a shot at winning?
This event contains mature content and is therefore: RATED 'R'
No refunds/exchanges.
All tickets are $20.00 and include all taxes, ticket fees and Music Hall Improvement Fund.
Venue: Uxbridge Music Hall