Leah Daniels & Friends Holly Jolly Christmas Concert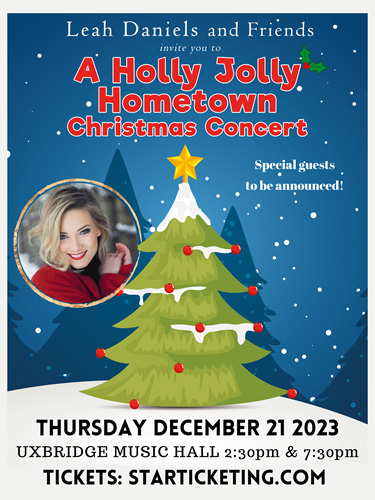 Leah Daniels & Friends Holly Jolly Christmas Concert
Don't miss out on this musical celebration of the season with Uxbridge's own Leah Daniels. Back in her hometown this heartwarming event has quickly become a beloved tradition for locals and families alike.
Step into the charming setting of the Uxbridge Music Hall for a festive concert full of holiday classics, special guest performances and heartwarming holiday stories. Leah's powerful voice and captivating stage presence backed by her 4-piece band of Canada's top touring musicians is sure to leave you with a smile on your face and a heart full of holiday cheer!
Show running time: 90 mins (no intermission)
About Leah Daniels
One of Canada's top rising country artists, Leah Daniels first gained acclaim with her track "Go Back" which skyrocketed into the top 20 at Canadian Radio and won her the CRMA (Canadian Radio Music Award) as the 2016 FACTOR Breakthrough Artist of the Year. Hailing from Uxbridge Ontario, Daniels has quickly made inroads within the industry. She's received four nominations for CCMA (Canadian Country Music Association) Interactive Artist of the Year, has garnered over 2 Million views on YouTube, and won the 2016 CMA Ontario Female Artist of the Year Award. She's also taken to the stage at key festivals including CMT Fest, Boots & Hearts and Big Valley Jamboree (just to name a few).
All tickets are: $34.00 (adults) and $20.00 (children under 12) and include all taxes, ticket fees and Music Improvement Fund.
Individuals requiring Access2 information/tickets please call: 1-866-808-2006 for ticket information.
Venue: Uxbridge Music Hall