Coming Soon...
Lindsay Rose Highland Dance Company 5th Annual Recital
Uxbridge Music Hall
Tue, 23 Jun 2020
Tickets on sale: 01 Jun 2020 09:00 AM
---
Stronger, Freer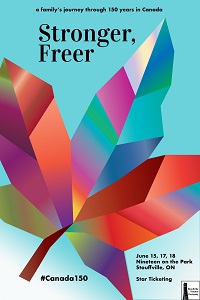 Stronger, Freer
Stouffville Theatre Company presents: Stronger, Freer.
Stronger, Freer tells the story of a struggling Canadian family over the course of 150 years from Confederation through to present day. The Robertsons arrive in Canada at the birth of our nation. Settling in PEI, from Scotland, they've pinned their hopes on the booming wooden ship industry as a way to fund Jonathan's return to school. And suddenly those jobs disappear. Disrupted by the steel ship industry. Half a century later we catch up with them in Truro, Nova Scotia, and WW1 is the stage where Canada defines itself as its own nation, strong and free. But the war has far-reaching effects?the Robertsons, and Halifax, will never be the same. 1967. Toronto. Leafs win the cup. Happy times. A way to prosperity. But Trudeau's new criminal code bill pits family members against each other. An all-out father daughter war. Financially stronger than ever in 2017, a new threat emerges that money alone can't heal.
All tickets include taxes and ticket fees and are: $26.00
Venue: Ninteen on the Park