zaAnne of Green Gables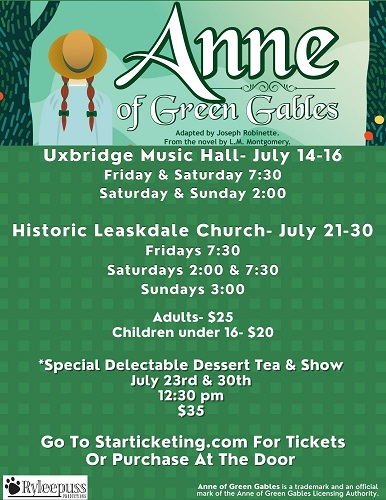 zaAnne of Green Gables
Ryleepuss Productions presents Anne of Green Gables at the Uxbridge Music Hall.
All the tragedies and triumphs that mark Anne's growth from adolescence to early adulthood are here: her friendship with Diana, her feuds with Gilbert, her adoration of Matthew, the mistaken wine bottle, the cake disaster, the broken leg, the scholastic achievements, and the saving of Green Gables. Whether the playgoer is an "old friend" of Anne's or meeting her for the first time, this play will solidify a lasting friendship between the audience and one of literature's most unforgettable characters.
All tickets are: $25.00 and include all taxes, and ticket fees.
No refunds/exchanges once tickets have been purchased.
Duration: approx: 2hours
Age range: All
Individuals requiring Access2 information please call: 1-866-808-2006 for ticket information.
Venue: Uxbridge Music Hall