Grace, 2 - Celebrating The Tragically Hip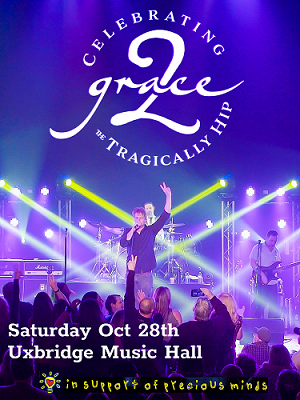 Grace, 2 - Celebrating The Tragically Hip
Back again in 2023, Grace2: Celebrating the Tragically Hip returns to the Uxbridge Music Hall from amazing sold-out shows in previous years at the Music Hall.
This event is in support of Precious Minds.
"Like millions of other fans, we remember the Hip as the soundtrack to our lives. We just love to celebrate the Tragically Hip with other fans and hopefully we're able to help bring back some great memories." – Andy Wehrspann, Grace, 2
All tickets are $45.00 which includes all taxes, ticket fees and Music Hall Improvement Fund. Reserved Seating.
Doors open at 7:00pm for 8:00pm show start.
No refunds/exchanges once tickets have been purchased.
Duration: 2.5 hours
Alcohol: Wine and Beer - cash bar.
Individuals requiring Access2 information/tickets please call: 1-866-808-2006 for ticket information.
Venue: Uxbridge Music Hall