Studebaker John & The Hawks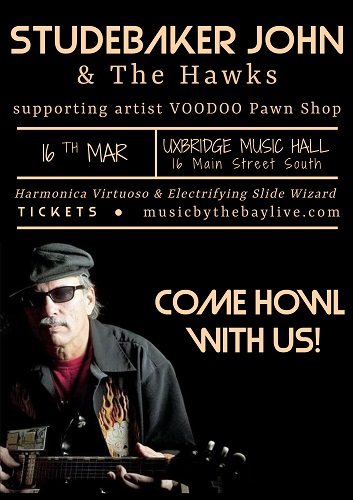 Studebaker John & The Hawks
Music By The Bay Live presents: Studebaker John & The Hawks with supporting artist VOODOO Pawn Shop.
An Original Harmonica Virtuoso and Electrifying Slide Wizard, Studebaker John's career has spanned six decades with tours across Europe and the United States. With over 20 albums released, he's one of Chicago's most legendary blues musicians.
Supporting Artist: VOODOO Pawn Shop
Bring your dancing shoes and Come Howl With Us!
Early bird ticket price until January 16, 2024: $62.13 and include all taxes, ticket fees and Music Hall Improvement Fund.
No refunds/exchanges once tickets are purchased.
No alcohol is permitted in the balcony or lobby areas.
Individuals requiring Access2 information/tickets please call: 1-866-808-2006 for ticket information.
Venue: Uxbridge Music Hall