Coming Soon...
The Last Waltz Live – A Musical Celebration of The BAND
Uxbridge Music Hall
Sat, 30 Nov 2019
Tickets on sale: 17 Jan 2019
---
Wendy's World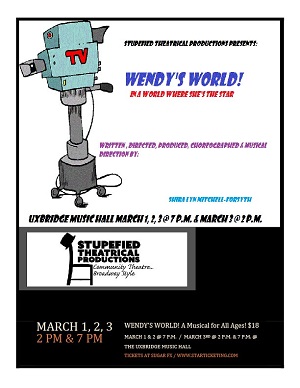 Wendy's World
Wendy is confident in her world! Her fantasy world, but who isn't?! She even has the best sidekicks on her talk show Wendy's World, but in the real world Wendy has to over come scars that we all carry on the outside or on the inside of ourselves. Everyone is insecure and unsure of themselves at times. Wendy and all of the people in her real life just have to be willing to get to know the real person and accept and embrace each other for all of their differences.
All tickets are $18.00 and include taxes, ticket fees and Music Hall Improvement Fund.
Venue: Uxbridge Music Hall