My Son the Hurricane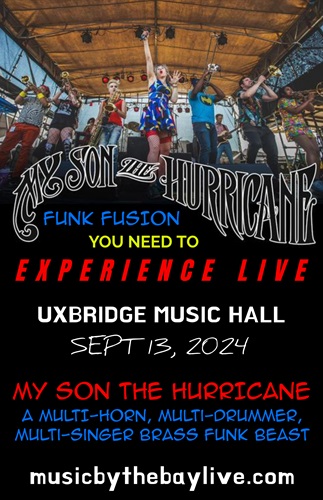 My Son the Hurricane
Music By The Bay Live presents: My Son the Hurricane.
My Son The Hurricane is a multi-horn, multi-drummer, multi-singer brass funk beast from Niagara, Ontario. The 12-piece brass-dance crew as toured over multiple countries and played some of Canada, USA and Europe's biggest festivals.
Over 45 SOLD OUT shows in 2022 proves that there is no live show like My Son The Hurricane. The band features trumpets, saxophones, trombones, drums, guitar, keys, percussion, and a wild front woman. In 2023 the band has taken on an over 70 date Canada, USA and Europe-wide tour and share the stage with acts like Foo Fighters, Jason Isbell and Colin James.
We dare you not to dance!
Approximate run time: 2 hours
Alcohol is being served at this event.
No alcohol is permitted in the balcony or lobby areas.
All tickets are: $62.13 (Early-bird rate) and include all taxes, ticket fees and Music Hall Improvement Fund.
No refunds/exchanges once tickets have been purchased.
Individuals requiring Access2 information/tickets please call: 1-866-808-2006 for ticket information.
Venue: Uxbridge Music Hall