You're a Good Man: Charlie Brown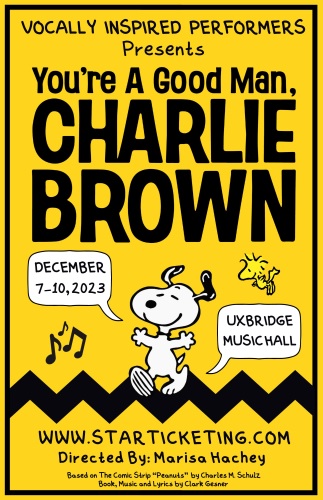 You're a Good Man: Charlie Brown
Vocally Inspired Performers has been bringing incredible family entertainment to The Uxbridge Music Hall since 2011. Their newest production, You're A Good Man, Charlie Brown is sure to be a hit with theatre-goers of all ages.
Equipped with this exciting script and music, The VIP team has put together a cast of 32 talented young performers aged 8-17 from Uxbridge, Port Perry and beyond.
The production features all the great aspects that Uxbridge audiences have come to expect from VIP: beautiful costumes, fun surprises, energetic choreography and incredible vocals!
SYNOPSIS:
Based on the beloved Charles Schulz comic strip, this revue of songs and vignettes features the entire Peanuts bunch. They explore life's great questions as they play baseball, struggle with homework, sing songs, swoon over their crushes, and celebrate the joy of friendship.
Included is Lucy's infatuation with Schroeder and her perverse joy at tormenting Charlie Brown, Linus's love of his blanket, Snoopy's rich world of imagination, and, of course, Charlie Brown's hopeless love-at-a-distance of the mysterious little redheaded girl. Come join Charlie Brown, Snoopy, Lucy, Sally, Linus, Schroeder and the rest of the Peanuts gang in this fun and colourful production that you won't want to miss!
All tickets are: $26.00 for adults, $21.00 for students and include all taxes, ticket fees and Music Hall Improvement Fund.
No refunds/exchanges once tickets have been purchased.
Duration: 2 hours
Age Restrictions: Ages 5 and up.
Individuals requiring Access2 information/tickets please call: 1-866-808-2006 for ticket information.
Venue: Uxbridge Music Hall