zCanada Rocks! 2022: Grace, 2 - Celebrating The Tragically Hip & Sandra Bouza as Alanis Morissette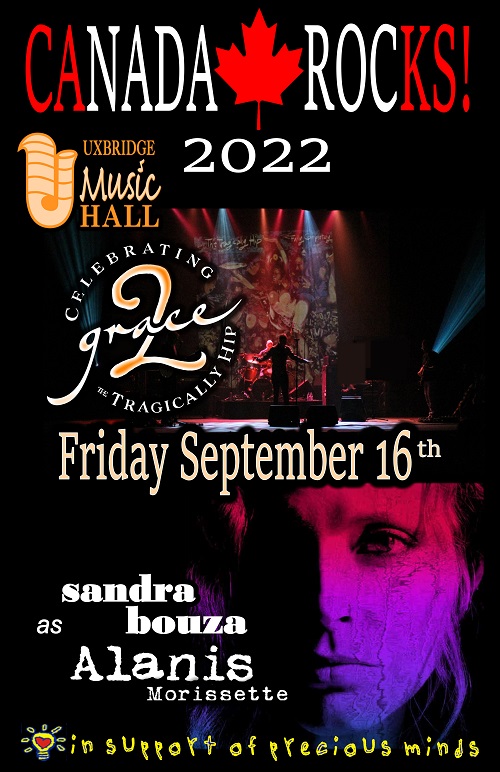 zCanada Rocks! 2022: Grace, 2 - Celebrating The Tragically Hip & Sandra Bouza as Alanis Morissette
Canada Rocks! 2022
Due North Concerts and 105.5 Hits FM Presents: Canada Rocks! 2022: Grace, 2 - Celebrating the Tragically Hip & Sandra Bouza as Alanis Morissette. In support of Precious Minds.
On March 7, 2020, Grace, 2 celebrated the Tragically Hip at the Uxbridge Music Hall before an amazing sold-out crowd. It was their last show before the shutdown, and they couldn't be happier to return exactly two years later for Canada Rocks! 2022.
"Like millions of other fans, we remember the Hip as the soundtrack to our lives. We just love to celebrate the Tragically Hip with other fans and hopefully we're able to help bring back some great memories." – Andy Wehrspann, Grace, 2
It may be difficult to comprehend now but "Jagged Little Pill" was once one of the biggest albums in the world. In 1996, the record sold more than 10 million copies; it has sold another 20 million since, according to Entertainment Weekly. To put it another way, this one album, written by a former teenage pop star from Canada, has sold as many copies as Taylor Swift's entire discography combined. 
An incredible singer backed by an all-star band, Sandra Bouza brings the music of Alanis Morissette to life like only one other. A live performance spanning Alanis Morissette's entire career with every song performed true to the original.
"Listening to Alanis as a teenage girl was life changing for me. In a world where girls are supposed to live according to certain expectations and stereotypes, Alanis was the first female singer who made me realize it was ok to be angry. It was ok to be a multitude of things. People categorized her as the "queen of angst" but in reality, she is multi-dimensional. She writes about everything from rage to love to codependency and embraces all of her challenges, strengths and weaknesses. It has been such a joy to present Alanis's music, and I hope our audiences can feel the same passion I do when we perform them." – Sandra Bouza
All tickets are $89.22 which includes all taxes, ticket fees and Music Hall Improvement Fund. Reserved Seating.
Venue: Uxbridge Music Hall